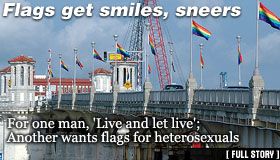 St. Augustine Rainbow Pride Flag
: Look at this great picture! Resident Jim Kruger is fabulous when he said, "Live and let live, shake it up a little." Too bad, some St. Augustine residents sneered and whined about this.
INcluding Alex Abenchuchan of St. Augustine who commented to me via IM today:
AlexXXXXXXXX: damn you
Ridor9th: Yea?
Ridor9th: what s wrong?
Ridor9th: u saw it? [referring to the Bridge of Lions]
Ridor9th: :-D
AlexXXXXXXXX: im gonna take one down
AlexXXXXXXXX: walk on it
(after few comments that has nothing to do with the subject, we came back to this)
AlexXXXXXXXX: im organizating a group of guys
AlexXXXXXXXX: we'll rip em down
Ridor9th: stop it
Ridor9th: do it, i'll sic the cops
AlexXXXXXXXX: i'm going to get it on tv
AlexXXXXXXXX: send it to the news
(blah, blah and blah -- he said something odd)
AlexXXXXXXXX: the whole point - its offensive to a lot of poeple
AlexXXXXXXXX: so i find it in bad taste
AlexXXXXXXXX: got to go!
AlexXXXXXXXX: home depot to buy some cutters
He's worried about "taste"? After all, the heterosexuals lacked the taste in almost everything but vagina. And it is hysterical that he would go to Home Depot where its workers tend to be gay.
Alex, you lost. Accept it.
R-
UPDATE:
As of June 24, 2019, Alex Abenchuchan of The Daily Moth has contacted me to apologize for his comments. And I have accepted his apology.